Wind & tide align, every afternoon, in Napa or Petaluma

Drew Dickson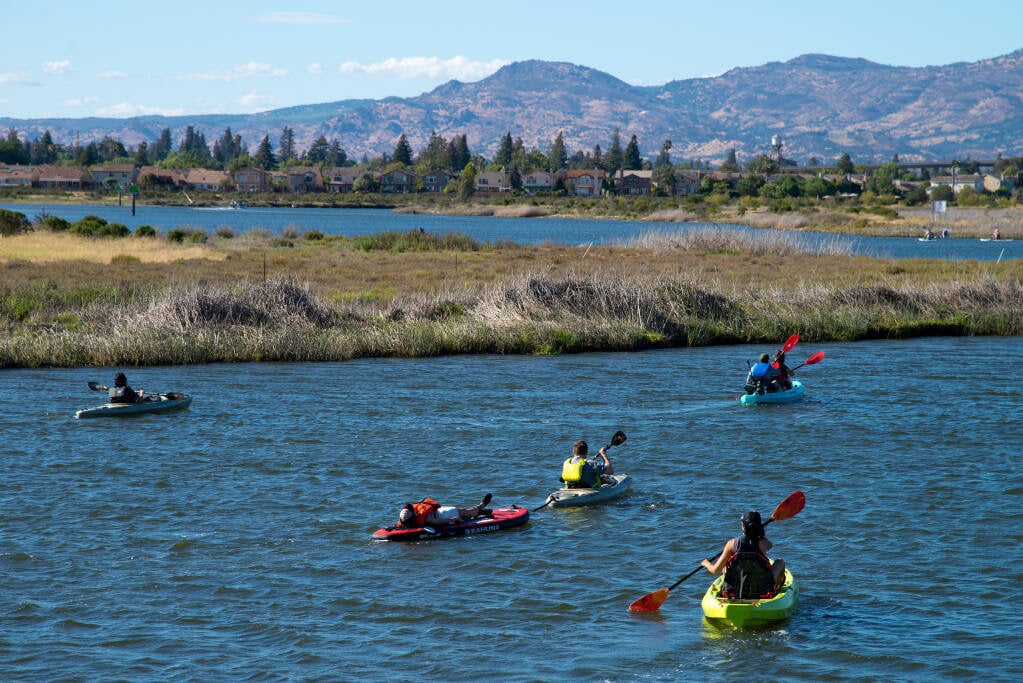 Within a year or two of our outfitting operation here in the Northern Reaches of San Pablo Bay, back in 2012/13, we soon began to recognize how great the region is for downwind paddle boarding on the tidal waters of Napa & Petaluma.
No matter what day it is, on one river or the other, the afternoon wind will align with the tide. This is because tidal flows on the two rivers, although 20 miles apart separated only by rolling champagne covered hills, are the same. While the prevailing afternoon wind patters are the opposite.
Wind in Petaluma is Northwest and blows off the Pacific Ocean, through the Petaluma Gap and down the river.
That same wind that on a good day will rip through the gap, down the Petaluma River and toward San Pablo Bay, is then met by winds blowing-in from the SF Bay. This creates a slightly circular pattern. And a Southwest prevailing on the Napa River during 85% of our afternoons. 5-8mph. The heat coming from the Upper Napa Valley also draws the wind flow north although it tends to eddy at the step in Stag's Leap. The cooling effect also contributes to distinct flavor profiles for wines grown above or below Stag's Leap American Viticultural Area.
Napa enjoys a west-southwest prevailing wind that aligns with incoming flood tide. Petaluma enjoys a west - northwest prevailing wind that aligns with outgoing ebb tide.
So no matter what day it is, on one river or the other, the wind and tide align!! Making for epical (epic & radical) one-way trips for up to 14 miles. Yes, on both rivers you can ride the tide with wind at your back for a full day. We will provide transportation during the off season (pricing according to attitude and route), particularly if you can put together a group. Or, just ride the tide 4-5 miles during larger tide events at the speed of the Russian River, without paddling!
Petaluma Routes: Downtown Petaluma to Lakeville Landing or Black Point
Napa Routes: Cuttings Wharf or Kennedy Park to Downtown Napa or Trancas Crossing Park.
Note: In Napa, since you finish in Downtown or North Napa (city), Uber's are readily available and will usually run less than $20.
Reminder to "us locals". The 35 minute commute between the two cities is about the best commute in America with sweeping views of Mt. Tam, Mt. Diablo, San Pablo Bay (even San Francisco on a crisp & clear winter day) with grapevine studded hills skirting a two-lane country roads.
Safe travels & happy paddling!
Drew Dickson, owner